Coaching a Master of Wine
Harvest 2019 is over and now the wines are slowly ending their fermentations before we put them in barrels for the next 12 to 18 months.
This year, we have a guest of honour at Château de Laborde for our winemaking:
Peter KOFF MW came to learn the art of vinification, with Hervé KERLANN as his winemaking mentor.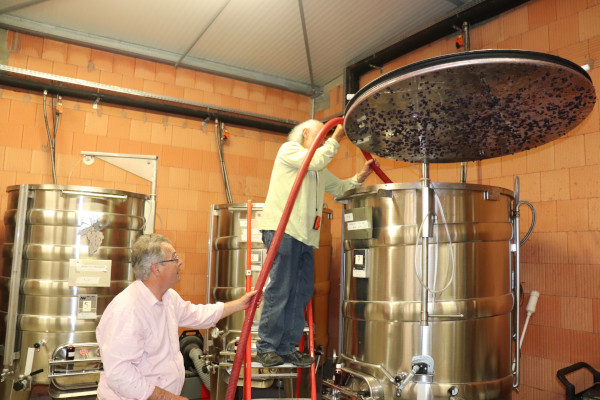 Even though Masters of Wine have a tremendous knowledge about all wines and every aspects of the wine world, from viticulture to distribution, it is always a great adventure for many of them to experience real winemaking of an entire cuvée.
Peter KOFF MW has vinified a cuvée of Bourgogne Côte d'Or, the new regional appellation launched in 2017.
Under the guidance of Hervé KERLANN, Peter has learned and practiced all stages of winemaking, from grape picking and sorting to fermentation, pigeage and remontage, and ultimately entonnage, when we'll put the wines in barrels. While winemaking is a lot of work, it was also a time of fun moments and exchange of ideas.
L'Peter was aiming to make a "gentle wine, with a soft and silky mouth, easy to drink and enjoyable". Coached by Hervé KERLANN, it will undoubtedly be a success!
You can follow his winemaking adventure on his page :
https://www.facebook.com/greatwinetoyou